Directory Entries & Advertising
Entries in the Taunton Business Directory are FREE to all local businesses. Premium entries are place at the top of the results page and include a free banner advert. All pages carry banner advertising - promoting your business regardless of the search.
---
Banner Advertising
Banner Advertising is not so much about being FOUND on the Internet but being SEEN. Basically, people only search for things they know about - banner advertising tells them you exist.
The up front cost of advertising can be tailored to your own requirements. Choosing a performance related plan such as "click throughs" can cost as little as 35 pence per new customer. Monthly Report by email to monitor performance.
Banner Pricing
FREE

with Premium Entry (below)

Annual Unlimited Clicks

£75

Impressions per 1,000

£50

Click Throughs per 100

£35

Banner Design - one off charge

£25
---
Free Directory Entries
Your business can be added Free of Charge in the Taunton Business Directory. This is a basic entry but is fully searchable - by first letter, category or by search for any part of the entry eg. Street or partial name.
---
Premium Entries
A high profile premium entry is £95 per annum and provides benefits that optimise your business's exposure. Premium entries also include a banner advert that is displayed on all directory pages allowing you to be seen on a regular basis.
Let us know your interest
Benefits of a Premium Entry
Premium entries are listed at the top of the search results

Your logo included in the entry

Banner Advert that appears on all pages

Banner Design Included

Impressions / Clicks - weekly report by email
---
Business Page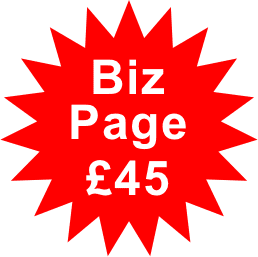 A Business webpage on the Taunton Business Directory costs just £45 and may provide all the information your customers or clients need, e.g. telephone or email address.
Let us know your interest
Business Page can include
Your Business Name, Address, Phone etc.

Your business logo

Location: Map with marker

A price list of services

Text & Photographs
» 3 Online - » 2505 Total